The Night Rider?
The Night Rider is an individual night bus with no fixed route or stops. The Night Rider takes its customers safely and reliably throughout the Grand Duchy to the address of their choice and then back home. The night bus runs throughout the Grand Duchy and only operates at weekends between 6 pm and 5 am.
The advantages
Online booking
Customers can book their transfer online on the website up to 60 minutes before the desired departure time, provided they have a valid Night Card or credit card. If the desired pick-up time is no longer available, the reservation system will automatically propose an alternative pick-up time, depending on availability.
SMS
Weather and traffic conditions can influence the duration of the Night Rider's journey. In combination with other requests the departure of the Night Rider can vary by +/- 10 minutes. In order to inform the customer of his arrival, he will receive an SMS approximately 10 minutes before the scheduled arrival time, so that he knows exactly when to arrive at the pick-up location.
Pricing model
The price of a Night Rider ride depends on the distance, not on the number of people who have booked the same ride together. The direct (shortest) route is used as a base for billing, even if the driver has to make a diversion either to pick up or drop off other customers, or for reasons beyond his control. The price per person varies according to the number of people sharing the same journey (max. 8 people). More people = cheaper.
The Multiple Entry option
If the customer wishes to book a trip for more people, he/she can indicate up to eight different departure or arrival points. The friends are picked up at the desired address and the group travels together to the same destination. The price of the joint trip is divided by the number of participants in the transfer.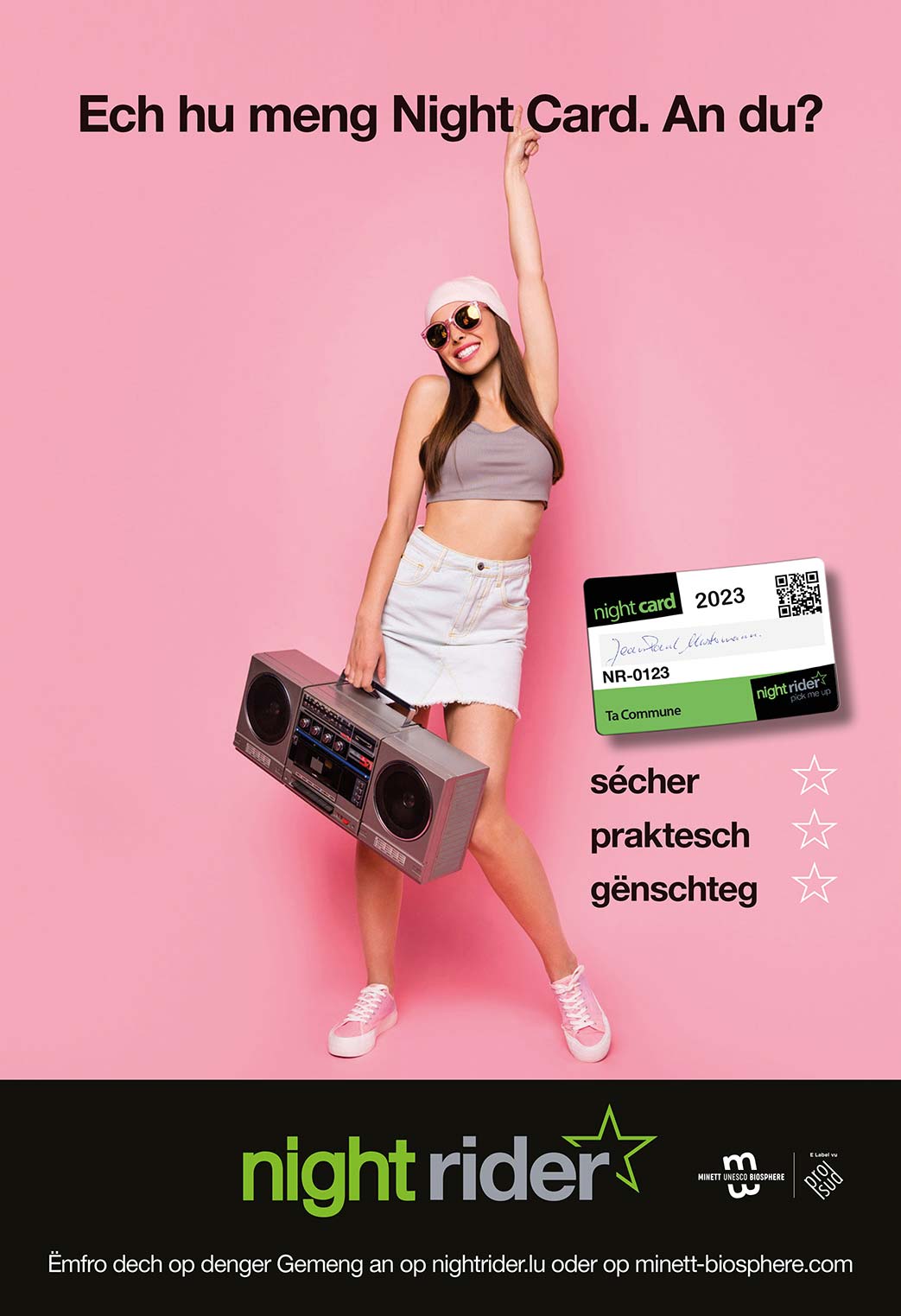 The PRO-SUD Night Card
Residents of eight municipalities belonging to the PRO-SUD association have the opportunity to purchase a PRO-SUD Night Card. The costs of the transfer for PRO-SUD Night Card holders are borne by the respective municipality, provided that the place of departure or destination is located in one of the eight PRO-SUD municipalities.
The PRO-SUD Night Card can be purchased from the municipal administrations of the eight communes.
More details are available on the web sites of the participating municipalities:
No internet access? No problem!
The Night Rider can be booked by telephone via the hotline 900 71 010 (3 cts/minute from the fixed network, Monday to Thursday from 8 am to 6 pm, Friday and Saturday from 8 am to 5 am the following day).