In the framework of "Rocklines – A journey through Minett, the sea of red rocks", our geopoetic project this summer, the author Davide Sapienza and the scientist Robert Weis will be seeking contact with the inhabitants of Minett.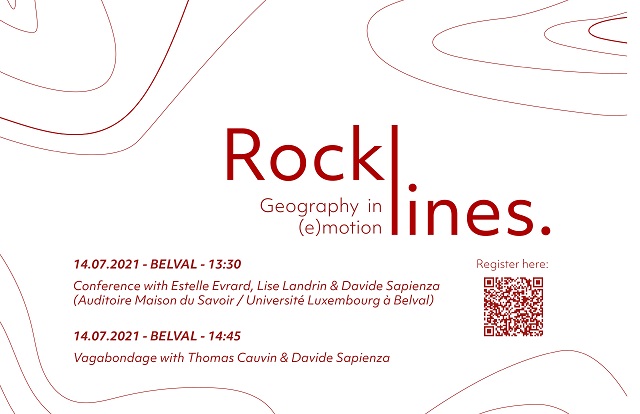 A date to note already is Wednesday July 14th in the auditorium of the "Maison du Savoir" of the University of Luxembourg in Belval.
At 1.30 p.m. we propose a conference entitled "Geography in (e)motion". As of now, registration is open. You just have to register here.
The conference is about the geography of emotions on the one hand and geopoetics on the other.
Writing about the world is often seen as a skill reserved for a few specialists, whether they are geography teachers or professional cartographers. Yet writing about the world is a daily practice.
Lecturers
Estelle Evrard (Spatial Justice and Territorial Governance) and Lise Landrin (Participatory Action Research and Performative Arts), researchers in geography at the University of Luxembourg, will explore this notion with their current project: REMIX PLACE "Pathways to participation: connecting diverse communities through place". This interdisciplinary project is scheduled to start within the ESCH2022 programme. It will explore people's emotional and physical attachment to place.
The geopoeticist Davide Sapienza will then offer an experiential report of the geopoetic journeys he has undertaken so far.
Davide Sapienza, a self-taught geopoet, explores his natural environment and lets his senses guide his artistic direction. In his talk he will explore the concept of geopoetics and what it has to offer in terms of emotional connection between people and their intimate geography.
This is not a Covid-Check event, so prior registration is required and seating in the large auditorium will be strictly limited. The entire conference will also be streamed live on our YouTube channel.


Vagabondage at Belval
At 2.45 p.m., immediately after the lecture we propose a walking tour of Belval followed by a networking drink. This is the ideal moment to discover the geopoetic work of Davide Sapienza who will be accompanied by Thomas Cauvin for this discovery of the former industrial site in the process of transformation.
Thomas Cauvin, associate professor of public history at the Luxembourg Centre for Contemporary and Digital History (C²DH), is developing a partnership with the Nuit de la Culture d'Esch-sur-Alzette for participatory history projects, starting in 2022.
The walk through Belval is limited to 20 persons.
Register right now
Book your place for the conference and/or the walking tour by filling out this form or by using the QR-code: