From 22 May to 6 June 2021, the UNESCO Biosphere Reserve (MUB) is organising the first BioBlitz in the south of the country in collaboration with the 'natur musée'. It has never been so easy to become an explorer yourself and to help the scientists of the National Museum of Natural History (MNHN) to complete the inventory of biodiversity in southern Luxembourg.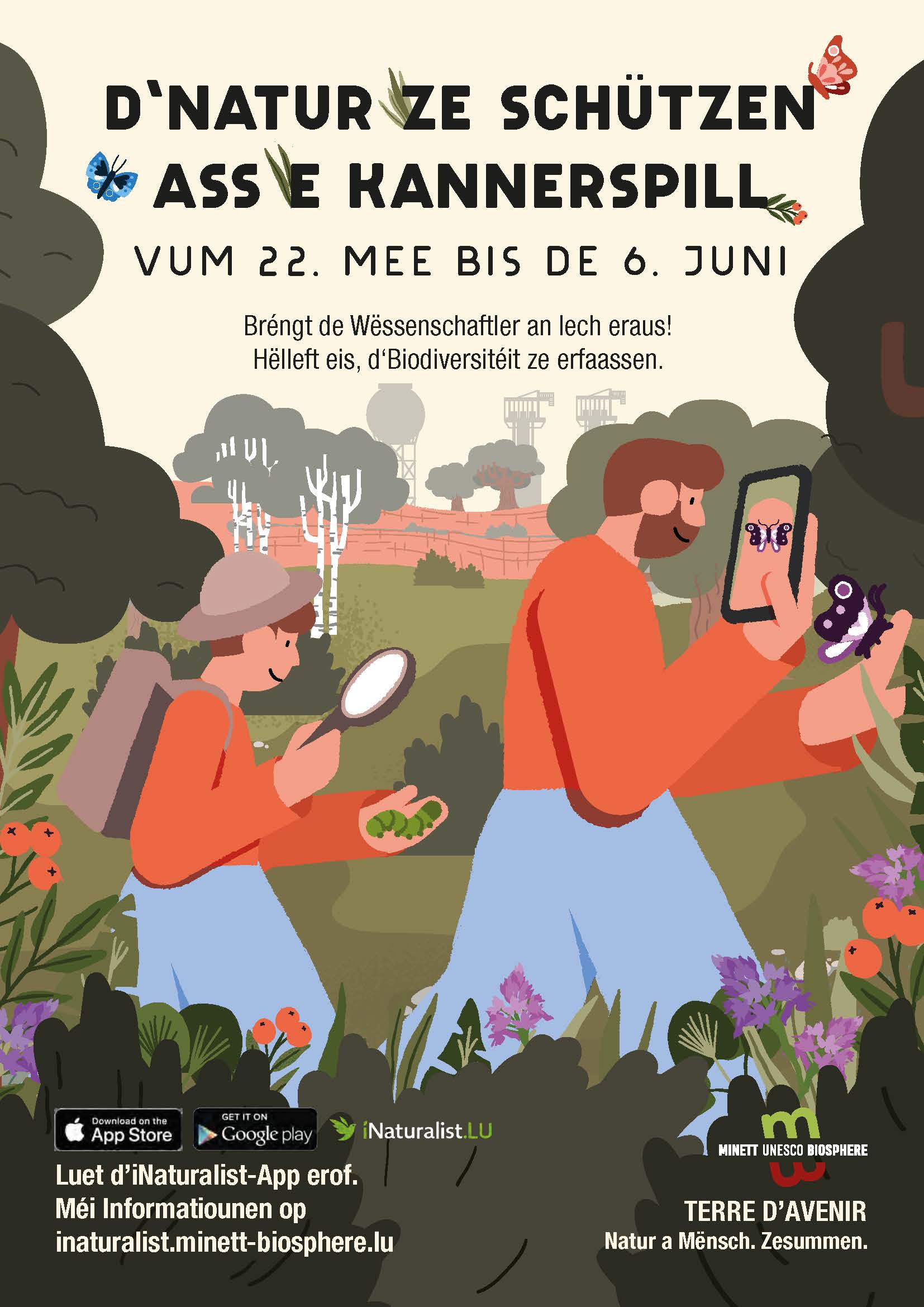 What is a BioBlitz? 

The concept of a BioBlitz originated in North America: it is an activity that aims to find/identify as many living species in a given area as quickly as possible, not only by scientists, but by any one who wishes to participate. The aim of a BioBlitz is hence to create a vast inventory of local biodiversity and, at the same time, to gain a better understanding of the local flora and fauna and to identify, in a playful and educational way, which plants and animals can be found/identified in the Minett UNESCO Biosphere. The MUB includes the 11 member municipalities of the Pro-Sud inter-municipal syndicate: Bettembourg, Differdange, Dudelange, Esch-sur-Alzette, Bascharage, Mondercange, Pétange, Rumelange, Schifflange and Sanem.  

Who can participate in the BioBlitz? 

Between 22 May and 6 June 2021, anyone who wants to explore and discover the nature of the Minett UNESCO Biosphere can participate: all you need is an iNaturalist account. To do so, you just need to download the iNaturalist application (for iOS or Android) onto your smartphone from the iNaturalist.lu website. Thanks to this application, visitors to the biosphere can upload their observations either directly in the field or subsequently on iNaturalist.lu. The geo-located photos thus taken will be collected, analysed and evaluated by researchers and scientists during the activity in order to create a map of the biodiversity of southern Luxembourg. This map will be accessible on iNaturalist.lu.      

Where can I find the results? 

The results can be consulted directly online on iNaturalist.lu under the heading "Minett UNESCO Biosphere BioBlitz: 2021". They will also be broken down by commune in order to have a complete picture of the biodiversity in each of the eleven communes labelled as members of the UNESCO biosphere reserve.  

What do the people in charge of iNaturalist.lu expect? 

Beyond the two weeks of the BioBlitz, the objective of the project is to establish a detailed inventory of the biodiversity in the Minett UNESCO Biosphere and to set up a network of nature observers in this region, the first and only UNESCO biosphere in the Grand Duchy of Luxembourg. Thanks to this inventory and the contribution of the observers, the aim is to document the fauna and flora present and to understand the changes in the region's biodiversity in the (long) term.