Since the end of the summer holidays, the activities organised under the label SudTEC, for primary school classes from the 11 member municipalities of the PRO-SUD syndicate, have continued. More classes have thus benefited from these workshops, which have now been coordinated by PRO-SUD since 2006.
Two of these workshops are of interest to us here:
CircularLAB SUD
© PRO-SUD / Lydia Pallucca
The CircularLAB SUD was organised together with our partner "Positive Impakt Luxembourg". In total, this workshop was offered 5 times, so that 5 classes could also participate in the programme of this activity.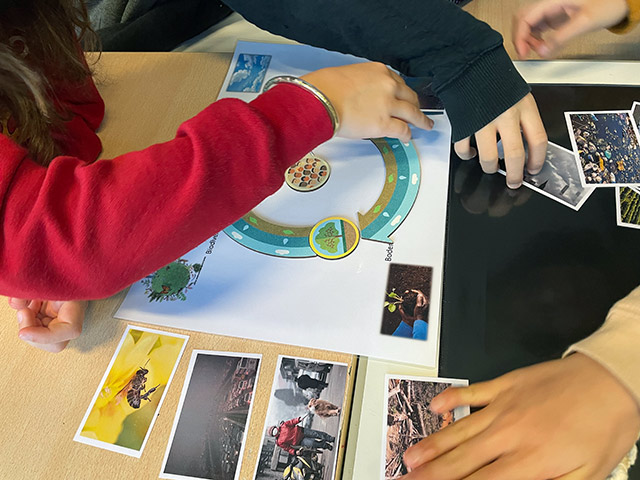 © PRO-SUD / Lydia Pallucca
CircularLAB SUD is about familiarising the children with the topic of the circular economy. On the one hand, the children are shown the effects on nature and the animal kingdom that arise when waste is simply thrown away. On the other hand, it is also about showing the children in a playful way how natural and circular cycles work and what they can do themselves to produce less waste.
© PRO-SUD / Lydia Pallucca
Eco-educational rally
© PRO-SUD / Lydia Pallucca
Together with our partner SICONA, an eco-educational rally was on the agenda of two school classes on November 24th.
© PRO-SUD / Lydia Pallucca
This edition of the rally focused on the hedgehog. The pupils from the south of Luxembourg were given an age-appropriate explanation of the hedgehog's life and habitat in the forest.
© PRO-SUD / Lydia Pallucca
During the workshop, the almost 30 children from cycle 3.2 of the municipalities of Mondercange and Dudelange built, among other things, a warm and cosy winter home for hedgehogs and got to know the forest dweller better in a playful way.
© PRO-SUD / Lydia Pallucca