After about a year of work, the map of the natural and industrial richness of the Minett UNESCO Biosphere was presented last Saturday. The invited guests of the first anniversary of our biosphere reserve received their copy in advance.
The map itself provides information about the different plants, insects, butterflies, lizards, newts, birds and other animals that can be found in our biosphere. From the honey bee to the water buffalo, which recently found a new home along the Alzette, more than twenty different animals are listed on the map. The illustrations of the animals were all penned by Ann-Kathrin Wirth, who drew the different species with a lot of patience, love and talent.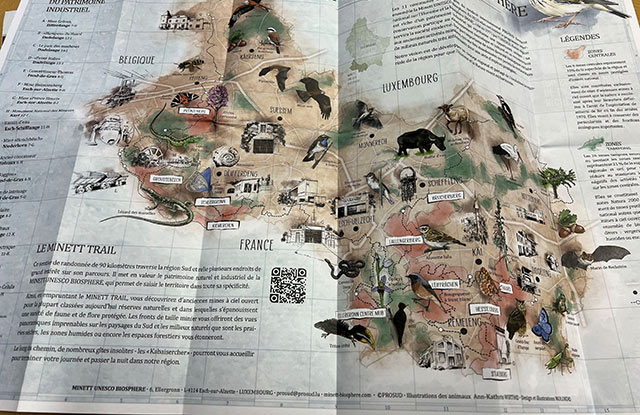 In addition to the animals, the map also features a whole range of rare and protected and less rare plants that can be found on the 200 square kilometres of the Minett UNESCO Biosphere. Special thanks go to Jan Herr from the Nature Administration, with whose help the animals and plants that deserve a place on this special map were selected and placed according to their location.
The industrial monuments of our region, from the old milk factory in Bettembourg, to the Humpen on the Haard and the water tower of the Metzerschmelz, to the old railway station in Clémency, were drawn by Nicolas Lieritz of the graphic studio Moloko, who were also responsible for the graphic realisation of the map.
On the back of the map there is a whole panoply of information about the Minett UNESCO Biosphere, its tasks, its creation and its embedding in the international UNESCO network "Man and the Biosphere".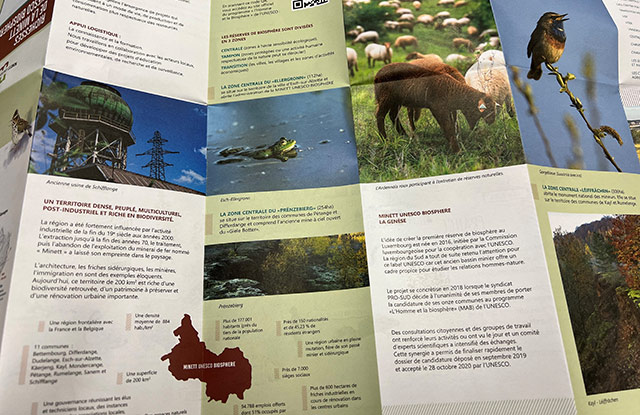 We will be happy to send you a copy of the "Carte des richesses de la Minett UNESCO Biosphere". All you have to do is fill in the following form.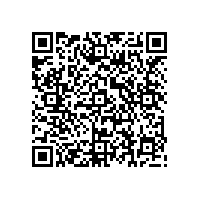 Scan the QR code or click to open the link.