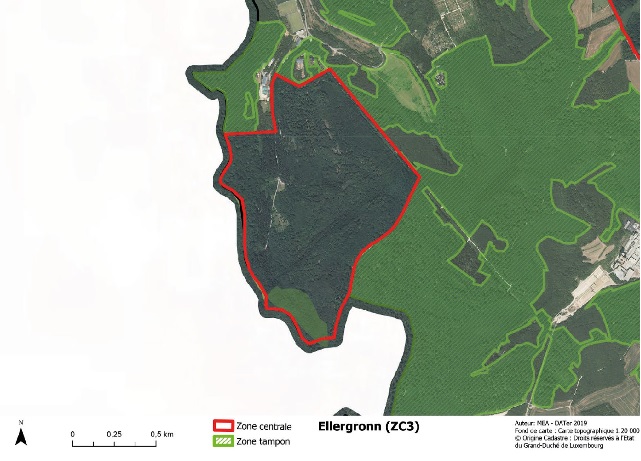 In the coming weeks, we will introduce you in more detail to the 6 core areas of the Minett UNESCO Biosphere. We start with Ellergronn, the place where the administration of the biosphere reserve is located.
© Marc Weis 
By grand-ducal decree, Ellergronn was one of the first areas to be protected in 1988. Since 28 October 2020, the more than 110 hectares of the nature reserve belong to the core areas of the UNESCO Biosphere. The core areas of our biosphere are all characterised by the fact that they are former open-cast mining areas.
However, this is only partly the case in the Ellergronn, because due to a geological peculiarity, the ore in the Ellergronn is partly so deep that it had to be extracted from the ground by means of mining galleries.
The former Cockerill mine, where operations began in 1881, is also located on the Ellergronn site. The old mining site with its hangman's quarters, now part of an industrial museum, has been completely preserved and the buildings also house the Ellergronn Nature and Forest Centre of the Nature Administration, the administration of the PRO-SUD local authority association, which is in charge of the UNESCO Biosphere Reserve, and a restaurant.
© Marc Weis
The forests and meadows, as well as the ponds of the Ellergronn, created by the collapse of the old mines, offer today an enormous biodiversity and the whole core area is easy to explore thanks to numerous well-marked paths.
The Minett Trail, a trail of some 90 kilometres, which will be operational for Esch2022 – European Capital of Culture next year, with its gîtes designed to welcome tourists to our region, also crosses the Ellergronn.


© Marc Weis
Here you will find the Ellergronn brochure, published in 2017 by the Nature Administration, which gives you a very detailed overview of the Ellergronn core area of the Minett UNESCO Biosphere on 98 pages.