Invitation to the German-speaking Youth Forum Biosphere Reserves in the Palatinate Forest!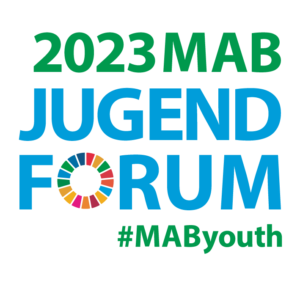 Do you want to network and participate in biosphere reserves? Young committed people from the Minett UNESCO Biosphere and the surrounding area are invited to a German-speaking exchange meeting in the Palatinate Forest!
Young adults aged 18 to 25 can apply by 16 July 2023 to participate in the "MAB Jugendforum Biosphärenreservate 2023" from 22-25 September 2023 in the UNESCO Biosphere Reserve Pfälzerwald-Nordvogesen. The 60 participants from 18 German and other neighbouring biosphere reserves can expect a colourful programme on the topic of participation and networking. Participation in the programme is free of charge for participants from German-speaking countries. Accommodation, meals and travel to and from the event must be financed.
In different formats and with diverse methods, questions will be discussed and worked on: How can young people actively shape their biosphere reserve? How can we strengthen the supra-regional networking of young people to biosphere reserves? Together with representatives from the German biosphere reserves, we will also develop concrete ideas and participation formats for young adults.
The participants will spend a long weekend at an educational partner company of the biosphere reserve with workshops, best practice examples of youth participation, excursions, hikes, mutual inspiration, campfire evenings, music and much more. Following the event, there is the possibility of a learning and networking stay in a German biosphere reserve. Funding is available for this.
If you are interested, you can find more information about the MAB Youth Forum Biosphere Reserves 2023 on this website. The online application is also now open. For further information we are at your disposal. Just contact us by e-mail.
Background MAB Youth Forums
"MAB – Man and the Biosphere" is a UNESCO programme for researching and improving human-environment relations. It is implemented by the global network of biosphere reserves, model regions for linking sustainable development and nature conservation.
The aim of the MAB programme's youth forums is to network committed young adults from biosphere reserves, to strengthen their identification with biosphere reserves, to promote their motivation for commitment, to train them further and to give them a voice. Young people living and working in biosphere reserves should be encouraged to actively contribute to the sustainable development of 'their' biosphere reserve and the world network of biosphere reserves.
The first international MAB Youth Forum took place in 2017 in the Po Delta Biosphere Reserve (Italy). Since then, MAB Youth Forums have been organised worldwide. In 2019 and 2021, the first two German-speaking youth forums were held in the Rhön Biosphere Reserve and the Swabian Alb Biosphere Reserve.
Luxembourgish participants at youth forums
At the forum in the Swabian Alb biosphere reserve, the Minett UNESCO Biosphere was represented by Hana Prosser. Following her participation, we developed the concept for the first youth forum in Luxembourg together with Hana, who worked with us as a volunteer for one year. This forum was organised in Lasauvage in April 2022 and was attended by participants from Luxembourg, Germany and Italy.
The second Minett UNESCO Biosphere Youth Forum will take place this summer. From 12 to 16 July 2023, young volunteers from the Grand Duchy, Germany, Sweden and France will meet at the headquarters of our biosphere reserve at Ellergronn in Esch-Alzette. For those interested from Luxembourg, there is still the possibility to register on the waiting list for participation.