MMMH...MINETT! LOCAL FOOD FROM THE BIOSPHERE
The products

Minett UNESCO Biophere has developed the brand "Mmmh…Minett!" to help producers commercialize their products and to create a territorial visibility directly associated with our mining region.
"Mmmh…Minett!" refers to "local consumption" and to ideas close to the heart of biosphere reserves, namely rethinking man's relationship with nature, reconnecting the population with and being proud of their homeland, and also respecting seasonality by reducing food waste.
MINETTER SCHOF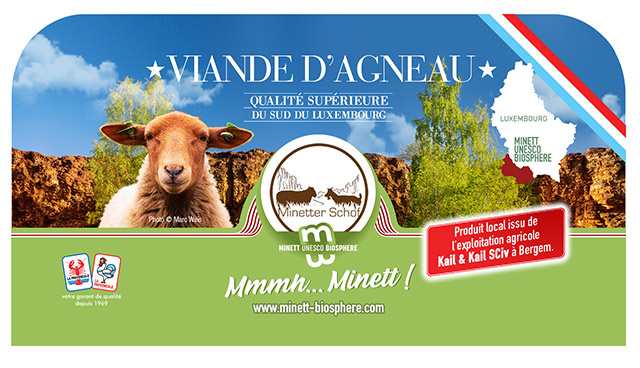 We support the project "Minetter Schof" by helping to commercialize this quality meat under the brand "Mmmh…Minett!".
More information about the project can be found here.
2022.09.03: Presentation of the project in Bergem in the framework of the Esch2022 project on applied agriculture. More information here.
A NATURA-2000 HONEY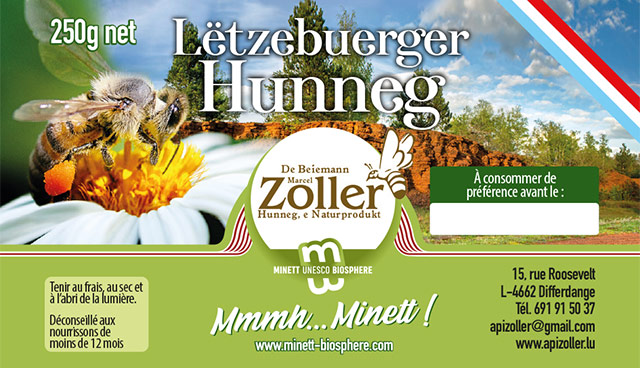 The beekeeper Marcel Zoller from Differdange wanted to use the brand "Mmmh…Minett!" to renew his labels for honey jars! So we worked with him to create a custom design.
His 50 hives are located in the NATURA 2000 areas of Rodange, Lamadelaine, Pétange, Lasauvage, Ronnebierg and Differdange. The honey is sold each Friday morning at the market in Esch-sur-Alzette and each Thursday morning in Luxembourg City at the Place de Paris in 125gr, 250gr and 500gr jars.
Would you like to adapt your labels for one or more of your products to the "Mmmh…Minett!" brand? Contact us at renoir@prosud.lu